Are you thinking about a cruise vacation on a small ship? Are you getting a bit weary of the crowds and lines and impersonal service on a large ship? How about trying a romantic sailing ship with very comfortable accommodations, a casual yet elegant atmosphere, and exquisite service and cuisine?
I give you: Windstar, the alternative to the typical cruise ship experience.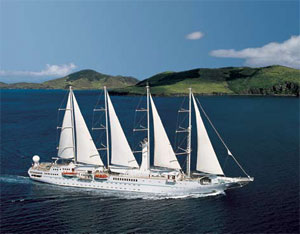 After 8 or 9 cruises with Windstar, I can attest to the relaxed yet refined atmosphere you will find on board. (continued below the fold)
The Ships (Wind Star and Wind Spirit): The ships are sleek and beautiful, especially when the computer operated sails are unfurled. They can slip into smaller ports that the larger ships cannot, so your itinerary will include more out-of-the-way charming places. You can really feel as if you are on your own yacht. Many times I have indulged in this fantasy while alone on deck when everyone else was downstairs showering for dinner. (I have not sailed on the larger Wind Surf as it's a bit big for my taste at 300+ passengers, so this review only concerns the two smaller ships, Wind Star and Wind Spirit.)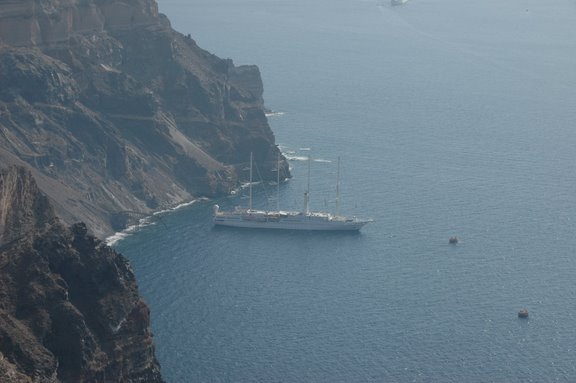 — Passengers: If the ship is full, it maxes out at–wait for it–148 passengers. This means no crowds, no lines for meals or tenders, there will always be a seat in the lounge and a lounge chair on deck for you. There are rarely children aboard. Your fellow passengers are here to relax and explore new places. They are not here to drink themselves sick and be loud and obnoxious. They are relaxed and interesting. There are no belly-flop contests on Windstar.
— Cabins: The cabins are very well designed and much thought has been put into the comfort and convenience of the passenger. I always notice and appreciate the beautiful teak wood in the cabins, as well as the more than ample storage space. The showers are always hot with strong water pressure, and they are large enough so the shower curtain doesn't cling to your wet legs.
— Dress Code: "Casual elegance" is both the dress code and the ambiance of the Wind Spirit and Wind Star. The most dressy evening clothing for the ladies is a nice summer dress and for the gentlemen, khakis and a short sleeved button front shirt or polo shirt.
— Dining: For breakfast and lunch you can have a sit-down meal in the dining room or enjoy the buffet in the Veranda Lounge where you can eat indoors or out. Dinner in the dining room is open seating and you can dine alone or with others — whatever you feel like on a particular evening. Stroll in any time between 7 and 9 and dine at your leisure. Nobody will be rushing you along so they can set the table for the next seating. Your table is yours for as long as you want it and your dinner companions are whomever you choose.
— Entertainment: During the day, if the sports deck is down, you can kayak, water-ski, snorkel or ride the banana boat. At night you have a tiny casino, a three piece band and a pianist. And the moon and the stars and the feeling that you are on your own private yacht.
Is it any wonder that Windstar has one of the highest repeat guest rates in the cruise industry? They just "get it", and I know I will sail with them more in the future.